How do I ask my wedding photographer for discounts?
It's the conversation that follows after that bomb is dropped that determines whether or not I choose to walk away from the conversation. Yes, ladies and gentlemen, part of the process of you interviewing your vendors is that they are also interviewing you. Very few vendors will let themselves be insulted in such a way; many may walk away from interviews because they don't feel the connection with the potential client and have no interest in developing a professional relationship with them.
For many vendors, especially those in the arts (such as photographers and videographers), this type of statement is particularly offensive as our products are a direct result of our time and talent. When a client asks a photographer, videographer or any other type of artist for a discount, it further implies that although they love our talent, they don't deem our time worthy of the rate we charge. Although they may not be stating that directly; asking for discounts, bargaining or negotiating implies these types of statements which is why many vendors and etiquette experts consider bargaining and negotiating a faux-pas.
It should be pretty obvious to you now that bargaining will always come with a risk; but, if you insist on bargaining with your wedding vendors, there are several very important things you need to remember.
1. Don't be rude!
It doesn't matter how many times I hear it, I'm still truly shocked when I hear a potential client ask "So, is that the best you can do?". I've racked my brain trying to figure out what their logic is when it comes to asking such a bold question; do they think my prices are only a mere suggestion? Do they think that I'll simply lower a price because they asked? Do they believe that they're doing me a favour by hiring me and that, as a result, I should simply give them a discount (not realizing that there's often several other inquiries about every available date)? Maybe someone can help shed some light on this for me. Don't forget the old adage; you catch more flies with honey than you do with vinegar. Even if your vendor was willing to bargain ever so slightly, being rude about it will shut the doors to that opportunity immediately!
2. Don't compare apples to oranges!
Professional wedding vendors are, for the most part, small businesses. We are not big chain stores that make billions a year; therefore, we don't operate like big chain stores. Asking a vendor to price match or service match to another vendor is a bad idea; we are all independetly run small businesses and our behind-the-scenes operations can vary tremendously which is why we all have different services and pricing structures.
3. Understand that you're not doing the vendor a favour by hiring them!
A professional and established vendor typically has multiple requests for wedding day services. Some vendors such as cake designers, can deliver multiple products to multiple clients on the same day; while other vendors, such as photographers, as limited to 1 client per day. At a consultation, don't act like you're doing the vendor a favour by wanting to hire them and don't use that as leverage for asking for a discount; chances are the vendor has already received other requests about that same day and you're simply one of the potential clients they will be interviewing.
4. Understand that not all vendors are willing to negotiate and you need to accept that.
Yes, there may be some vendors who are willing to negotiate. Perhaps you've stumble upon a vendor who has had a difficult time getting bookings recently and is willing to provide their services for less as they'd rather work for less than not work at all – if that's the case, consider yourself lucky if they're still in business by the time your wedding rolls around. When and if you find a vendor who will negotiate, you must ask yourself why they are willing to negotiate. If their desperation for business drives their willingness to bargain, then you'll have to seriously consider of they are a wise return on your investment. If a vendor makes it clear that they are not willing to negotiate or bargain and you consider this unacceptable, simply walk away – there's no need to waste anyone's time further.
5. Do your research; are you already receiving a discount? If so, don't ask for more!
Many vendors offer both A la Carte services as well as complete wedding packages. Vendors will offer both types of services because their clients needs will vary; however, packages services are often built on a "buy more/save more" foundation which means they may already be discounted compared to the A la Carte pricing. When looking at your vendors prices, always check to see if you're already receiving a discount by buying a package verses A la Carte services. If you're already receiving a discount by buying a particular package; don't ask for a further discount (your vendor will not discount a discount!)
How to ask your photographer for a discount:
If you think the price is expensive, ask yourself what you are comparing to. Is this particular photographer more expensive than another? If so, compare their portfolios, their experience, etc. Or is it possible that you just had a lower number in your mind when you started price shopping? Which is totally fine if that happened, you did nothing wrong by expecting it to be less. But now that you've been given a number different from what you expected, try to figure out if your expectation was within range of the value of the service in the market. Look at pricing from several other photographers with portfolios you like—if there's a trend, chances are your expectations were off, and that's okay. Now adjust your budget or the project accordingly.
If you're going to ask the photographer for a discount, start with asking if they have any existing discounts or a time of the year when they run a promotion. Some wedding photographers, for example, have lower rates for times when business is slower for them, such as during the winter, Thursdays, or Fridays. Be prepared to give a little if you want to take a little. Asking for a discount is asking for something for nothing, so you might have to adjust your own plans to make the price you want work.
groupThink about "what's in it for them." Photographers are small business owners. They only offer discounts when they can get something legitimately good for their business in return. Something that makes less work for them they might do for less money. For example, I have a standing 2-at-once headshot discount where if 2 people come in for a headshot at the same time they each get 20% off their session. This makes less work for me since I don't have to schedule back and forth with 2 people for 2 different sessions when they come together, so I pass that time/effort savings onto them in the form of a discount.
Please remember that this person is a working professional who owns a small business, and asking them to do their work for cheaper with no good reason or incentive is, well, let's just say it, insulting. Your boss wouldn't say "your paycheck is going to be half what it usually is this week because your pay is not in our budget," and if that did happen, how would you feel? Just try to keep this person's feelings in mind when asking for a discount. Word it carefully and with respect.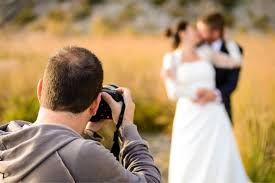 Questions to Ask a Wedding Photographer
You've poured your heart into planning your wedding, and you'll want every meaningful moment captured in photos. But with a bajillion fab photographers in this world, how do you know which one is the right fit for you?
First, fall in love with their portfolio and style. Do your homework by researching online, checking out websites, galleries, reviews, social media, etc. to find a photographer whose work speaks to you.
Next, make sure you click with them on a personal level! You want a photographer that you could see yourself being friends with. The more at ease you are with them, the more natural and authentic your wedding photos will be. See how that works?
The Basics
Do you have my date available?
How far in advance do I need to book with you?
How long have you been in business?
How many weddings have you shot?
Have you done many that were similar to mine in size and style?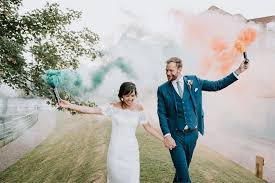 Photography Style
How would you describe your photography style (e.g. traditional, photojournalistic, fine-art, moody)?
How would you describe your working style?
TIP: The answer should help you determine whether this is a photographer who blends into the background and shoots what unfolds naturally, or creates a more visible presence by taking charge and setting up shots.
If your style is mostly candid, will I still get formal, posed portraits (and vice versa)?
Do you shoot weddings in digital, film format, or both?
Do you specialize in indoor or outdoor events, or both?
Pricing + Packages
How much of a deposit do you require and when is it due?
Do you offer payment plans?
What is your refund/cancellation policy?
Do you charge a travel fee and what does that cover?
What packages do you offer? This question covers things like:

Are your packages customizable?

How many hours are included in each package?

Do you include engagement photos in your packages? Rehearsal dinners?

Can you put together slideshows to be shown during the cocktail hour/reception?
Do you provide retouching, color adjustment, or other corrective services?
How long after the wedding will I get the proofs? Will they be viewable online?