How to Prevent & Repair Water Damage to Laminate Flooring
Who doesn't love laminate flooring? We sure do! It looks great, is easy to clean, difficult to scratch, and won't break the bank. It's a versatile flooring option, and its popularity grows more each day. However, there is one small problem when it comes to water: if it's exposed to too much water for too long, the boards will almost always begin to swell, cup, crown, buckle, crack, or split. No one wants to deal with that!
Here are a few things you can do to both prevent water damage to your lovely laminate.
Keep it away from water-prone areas. This includes areas of your home like bathrooms, kitchens, laundry rooms, mud rooms, and basements. Any room that has a major source of water in it is probably not the best option for laminate floors. Install vinyl flooring in these areas of your home instead – it's 100% moisture-resistant!
Wipe up spills immediately. This is probably the best way to prevent water damage. Use the proper methods for cleaning up different kinds of spills to not only prevent your floors from being damaged, but also to keep them looking their best.
Basic home maintenance. Once every few months, do a quick checkup on your appliances to make sure they're functioning properly and aren't leaking. Check under sinks, behind toilets, and around water heaters for any signs of potential problems.
And if your laminate has already suffered, here are a few tips to get your floors looking as good as new!
Locate the source of the water damage. Not all water damage is caused by leaks, but if that's the cause of your floor's damage, it's best to locate and stop the leak in its tracks. This may require you to shut off the water supply or fix a broken pipe, toilet, or appliance. Prevent your floor from suffering any more damage than it already has!
Pry up damaged boards. This may be a given, but make sure you note the planks that have taken on the most damage. Then, if you're ready to replace them, pry the planks up using a circular saw, crowbar, or other tool. It's important to note that each board needs to be removed one at a time – don't risk doing any further damage by trying to pry up multiple boards at once.
Have extra boards on hand. Unlike carpet which must be replaced entirely if it suffers major water damage, laminate flooring is comprised of planks that are easy to pop up and replace if the need arises. Have a few extra boards on hand if possible so that you can replace the damaged boards yourself. (Just make sure the subfloor is dry and free of any damage before you install the new plank!) If you don't have extra boards, and you don't know what style or color your specific laminate flooring is, pop out a plank and bring it to your local flooring store – they'll be happy to help you find the same style, if not at least a close match.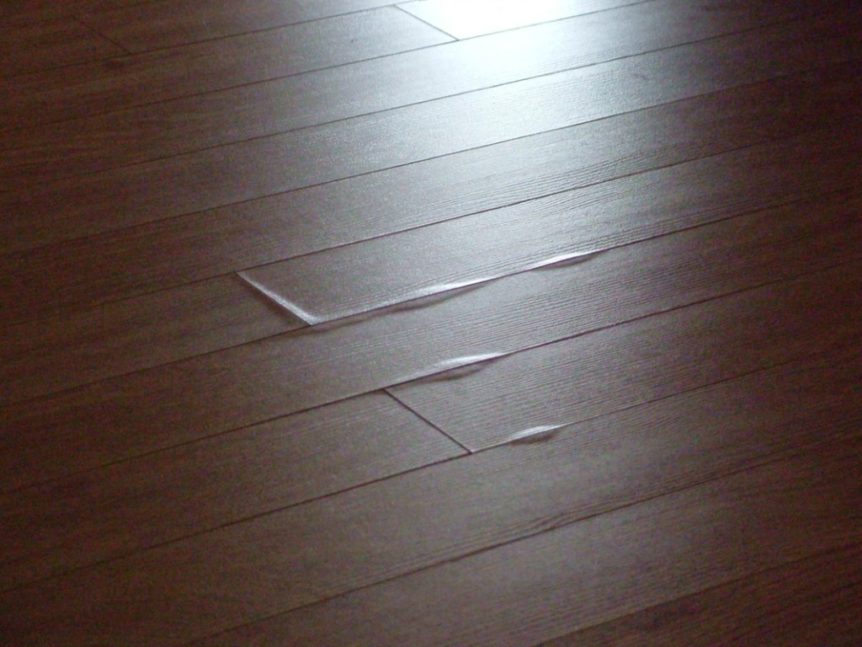 Ways to Keep Your Laminate Floors in Good Condition
Many people choose to install laminate flooring when working on a home renovation. It has become a popular option among homeowners because of its affordability and durability. It also comes in a wide range of designs, which closely resemble hardwood, stone, granite and ceramic. Just like other types of floor finishes, laminate floors have to be maintained and protected to keep them in good condition. Here are some pieces of advice on how to care for your laminate floors.
Dry Cleaning
One simple way to keep your laminate spotless is by dry cleaning the whole area. You may use a vacuum cleaner, a cleaning rod with micro-fibre pads or a dry mop. Sweep the dust and small particles from the floor surface and make sure you move the furniture when cleaning. This will ensure that all the hidden debris is eliminated.
Thorough Cleaning
If you have a party at home, stains and spills are inevitable. In this case, a more thorough cleaning is required. You need to use a cleaning solution apart from plain water to remove tough dry stains and spills. If you don't have any commercial floor cleaner available, a mixture of water and dishwashing liquid will suffice. Dampen your mop with your cleaning solution and wipe the entire floor area. Make sure you dry the surface right away as too much moisture can warp your floor.
Trimming Pet Nails
Many pet owners use laminate flooring because of its surface resistance. Although its aluminium oxide top coating can withstand normal wear and tear, it will still be helpful if you keep your pet's nails trimmed to prevent your floor from gaining scratches.
Protection and Care
If you want to further increase the life of your flooring, you can use different accessories to protect the floor from getting damaged. Mats with a non-slip backing should be placed at the entry points of the house to ensure that the dirt from your footwear is not carried in. Adding rugs to floors can also beautify an area while keeping your floor protected. Installing felt pads underneath the legs of the furniture can also lessen the potential of floor damage.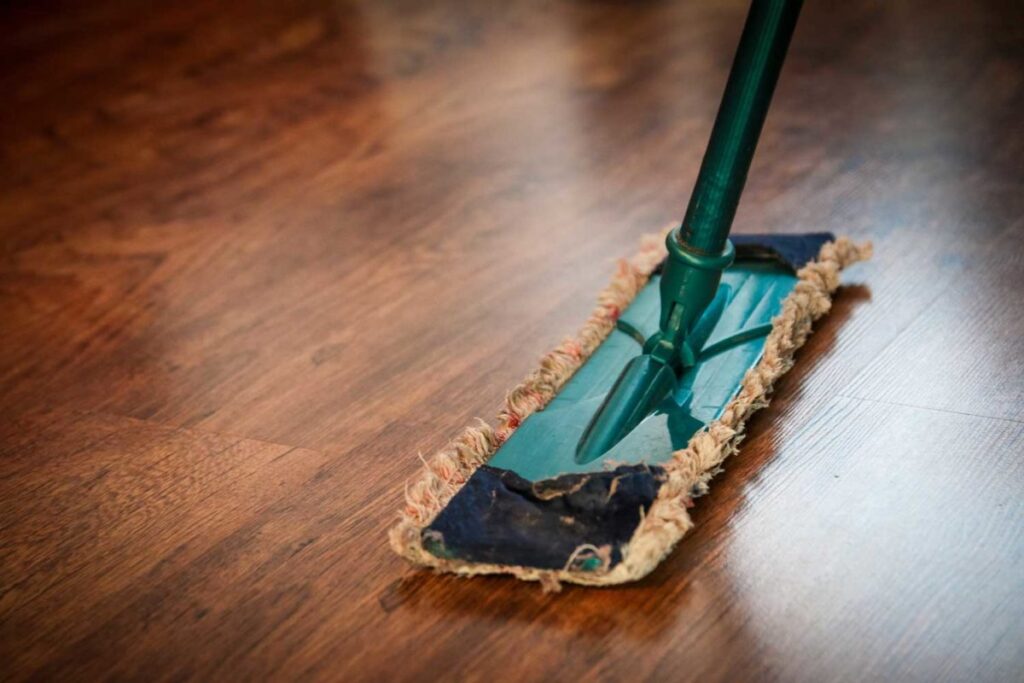 Steps To Protect The Floor:
Before you can protect your laminate floor, the first step is to prepare the surface. To do so, mist Laminator Plus Deep Scrub onto the floor and let it sit for 3-5 minutes.
Scrub into the floor with a damp sponge mop.
Press excess moisture from the sponge mop. Then use the mop to pick up remaining moisture from the floor.
Rinse the mop and repeat the clean water damp mopping process at least twice to ensure all Deep Scrub residue is gone.
Once the floor is dry, mist Laminator Plus Restore over the floor.
Use the microfiber mop to spread the Laminator Plus Restore over the floor in one direction.
Wait 20 minutes. Repeat if desired. Two coats will provide a satin shine, while three will finish the laminate to a high gloss.
For routine cleaning and maintenance, mist the floor with Laminator Plus Buff Dry Cleaner. Buff dry with a clean microfiber mop cloth.
Additional Tips and Advice
Do not pour water on laminate flooring. Do not allow moisture, even in small amounts, to remain on the floor, especially if the joints aren't sealed. Floors will warp under contact with moisture and the only solution at that point is to replace them.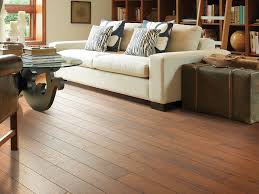 Pros and Cons of Laminate Flooring
Laminate flooring offers the look of hardwood or stone flooring, but without the expense and required maintenance. Usually made from high-density fiber or wood particles, the flooring is topped with a laminate overlay that is designed to look like wood or stone. Then, a second clear, hard layer is placed on top of the overlay, giving the laminate its durability. Laminate flooring has become a popular way to update the look of a home.
Pros
Price and installation: Laminate flooring is cheaper and easier to install than hardwood flooring. Prices range from about $1.50 per sq. ft. to $3 per sq. ft, but you can find better deals from wholesalers and online distributors. Laminate flooring can be placed on top of almost any existing floor, excluding carpet, and several manufacturers offer a glue-free, tongue-and-groove system. The interlocking planks make it an easy installation for weekend warriors, and it can be uninstalled without damaging the laminate or the original flooring underneath.
Durability: Laminate flooring works well in high-traffic areas and homes with pets. It is scratch-resistant, durable and easy to clean. Just use a dust mop or a mop dampened with water. Plus, most manufacturers offer at least a 10-year warranty on their product.
Resale value: Laminate flooring can add to the resale value of your home. Most home buyers are looking for hardwood floors instead of carpet. Laminate gives you a wood look for less and can make your home look more open and modern. It also is environmentally friendly because it uses less wood–if any–in its construction.
Cons
Noise: Laminate flooring does not absorb sound well and can have a hollow sound when you walk on it, particularly in high heels. Using an acoustic underlay will help reduce the noise, but it still may be a nuisance. Laminate also lacks the visual warmth of other materials, including hardwood.
Buyers know it's not hardwood: Although laminate floors will increase a home's value compared to wall-to-wall carpeting, hardwood floors will increase it even more. Buyers generally can tell the difference between laminate and hardwood or stone, and they prefer natural materials.
Design options: Another drawback is that the look of the flooring is set by the manufacturer. Color and sheen cannot be customized, so choices are limited, and a buyer may not like your selection. Hardwood floors can be sanded and re-stained.
Warping: The materials in laminate flooring are moisture resistant, but the floors can warp in high-moisture areas. There is a debate over whether it should be installed in kitchens and bathrooms or other rooms that are exposed to heavy water or steam. Most manufacturers warn that laminate flooring will be damaged by standing pools of water. It is true of other materials as well, but hardwood floors may be able to be sanded and refinished. Laminate floors would have to be replaced. The material is still relatively new, so it isn't clear how this type of flooring will hold up over time.
The Effects Of Weather On Your Flooring
If you have hardwood or laminate flooring then you may be surprised to hear that fluctuations in temperature can affect them.
These types of flooring are porous and expand and contract alongside changes in heat and humidity. If the weather is very warm we tend to turn on the air conditioning, if it is cold outside we tend to turn on the heating. Heat causes porous materials to expand, whilst cooler conditions cause them to contract.
Humidity can also adversely affect your hardwood and laminate floors. If the humidity levels in your home reach around sixty percent then moisture may seep into the floor boards and cause them to swell. In turn, this can result in boards warping, lifting, or cupping. When the humidity levels in your home decrease this swelling is then reduced. This cycle is repeated with each change in the seasons, causing repeated damaged as time goes on.
Fortunately, there are some steps that you can take to protect your laminate and hardwood flooring from fluctuations in temperature and humidity.
Make sure that you use minimal amounts of liquid when cleaning your flooring, and never mop hardwood or laminate floors with water. Also, don't clean your floors with water-based products on a daily basis. All these steps will reduce the amount of humidity that your floors are exposed to.
Monitor the amount of humidity in your home. If humidity levels get to over sixty percent then use an air conditioner or dehumidifier to bring these levels down.
In general, the amount of moisture that your floors are subjected to, and the humidity in your home play an important role in keeping your hardwood and laminate floors looking their best. Keep both of these to a minimum and your flooring should look in tip top condition for many years to come.