The Complete Wedding Video Guide: Ideas, Tips, and More
The Characteristics Of Amazing Wedding Videos
Whichever type of wedding video you choose to go with, there are certain basic characteristics that you'll want it to have. After all, whatever the style is, if the execution is sub-par, you won't be happy with the end product.
The video must have amazing audio: This might seem like a given, but it's often overlooked by amateur or novice videographers. The audio is a key part of any wedding video – if the audio is going to be bad you might as well just stick to photos.
It has caught all the traditional wedding shots: Few things are more frustrating in a wedding video than a key shot missing. The purpose of a wedding video is to retell the events of that one most special day in order and in style. If something is missing then that whole idea is pretty much ruined.
The camera is still throughout the entire video: Shaky camera work is great if that's the style you're going for but if not, then it can showcase poor quality and lack of expertise. If you've skipped on a professional videographer you might very well end up with that same quality as well. A good videographer, however, can make sure that every shot and every scene is done with a perfectly level and still camera.
It has enough B-roll: B-roll footage is both an editing nightmare and a blessing. It does take a lot of time to sift through but it gives the videographer enough footage to add details and style to the video and make it into something truly special.
Every shot is evenly exposed: Another annoying thing about poorly shot and edited wedding videos is the uneven exposure in consecutive shots. What this means is chaining very light scenes with poorly lit ones, just for an example. It simply makes for a bad video. To avoid that, good videography will plan all the footage ahead of time and will make sure that the exposure and lighting match perfectly.
The lighting is always perfect: Lighting must not only match from scene to scene, but it must also be objectively good. A wedding reception will include a lot of tricky lighting shots – some with very poor lighting, and others with too much of it. The videographer must always make sure that every shot and scene is perfectly lit for the best possible results.
Tells the story: It's directed and edited to tell the story of the day in the best possible way. Even the best possible footage can be edited and strung together into a boring and uninteresting video. A lot of the work of the videographer gets done in the editing room after the wedding and it needs to be done expertly as well.
Wedding Video Tips and Tricks
If you would like to put your wedding on film without incurring too many costs, then you can make your own video. This is a possible option and is one that many couples have chosen in the past and present. With that in mind, we have collected a range of helpful advice that you can use to make your complete wedding videos as captivating as possible.
Do I Really Need a Videographer for my Wedding?
Even if you are going to take control of your wedding videos, it's still important that you hire someone who can oversee the process. After all, it is your wedding day, so there will be a lot for you to think about beyond making videos. Therefore, you need to select a videographer. You can choose one of your guests to be the videographer, but you will need to make sure they have a decent camera to use. When you are thinking about this, here are some other options:
You can pay a college student to do the filming so that one of your guests does not have to do it and you can keep costs down.
You can allow guests to take their own footage so they can send it to you later. You can then package it all into a series of clips or a full movie.
You can use special techniques like drone wedding videography to do the filming from a distance. This would be an unforgettable way to record videos.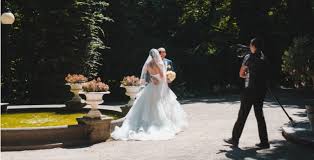 Questions To Ask Your Videographer
When you're interviewing potential wedding videographers, make sure you know exactly what they offer. Here are a few questions you can ask before saying "I do" to your videographer.
Are you available on the date of our wedding?
Do you offer any packages? What's included in your packages?
Have you worked with our photographer before?
How long will you be filming?
How many videographers will be there on the day of the wedding?
How long will the video be?
Will our video include audio?
How do you choose music for a wedding video?
When can we expect the video to be ready?
WEDDING VIDEO PRICES
Like many aspects of a wedding, there is a lot of variety in wedding videography pricing. Before you settle on a videographer, here are a few cost-related things to think about:
Set a budget: Before you start talking to a videographer, think about how much you can set aside for your wedding videography.
Ask about packages: Some videographers will give you a la carte pricing and others will have packages that can bring down costs.
Read over your contract: Make sure everything you want is included. Be very clear on what you're getting. If it's not in the contract, you can't expect it on your wedding day.
Sign your contract quickly: Though you should take time to read it over, don't wait too long to sign a great videographer! They might get snapped up by another couple.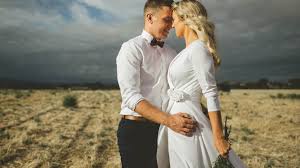 Wedding Videography Checklist
Capturing the most important moments of your big day is a must. While it's easy enough to preserve everything in wedding photographs, you may also want to hire a wedding videographer to help get those sentimental moments on film. If they are experienced with weddings, your videographer probably already knows the ins and outs of who and what to film. If you have any doubts, pass along this wedding videography checklist.
Remember that each and every wedding is different, so you may have more or less to get on film. As a rule of thumb, more is more. You can always dial back the number of shots when editing it together for the final cut.
Here is your go-to wedding videography checklist.
Pre-ceremony videography checklist
A lot happens before the bride and groom meet at the altar, and your videographer should be up to the task of getting all that prep work on film. You'll want a medley of getting ready shots of both the bride and the groom, venue shots and arrival shots.
Bride/groom prep (shots of the couple getting ready pre-ceremony)
Wedding party prep (shots of the bridal party and groomsmen getting ready pre-ceremony)
Exterior of the ceremony venue
Landscape around venue (i.e. for a beach wedding, shots of water, sand, pebbles)
Interior of the ceremony venue
Guests arriving to the ceremony venue
Bridal party arriving at ceremony venue
Wedding ceremony videography checklist
Once everyone has made it to the venue, your videographer should make their way inside. You'll want everything from your flower girls to your "I do's" on film. Remember to point out key guests to your videographer, as you'll probably want a few crowd shots as well.
Guests being escorted down the aisle
Decorations, including close ups
Musicians performing
Groom waiting at the alter
Mother of the bride
Bridal party walking down the aisle
Flower girl(s)
Processional
Vows
Exchanging of rings
The first kiss
Introduction as a married couple
Recessional
Bride and groom leaving the venue
Wedding reception videography checklist
Now it's time for the party. There's a lot of moving pieces, so make sure your videographer has a list of all the necessary shots. The cake cutting, the first dance, toasts and the bouquet toss are among the most important.
Exterior of the reception venue
Interior of the reception venue
Wedding reception decor
Table settings
Menu
Meal/Bar
Guests at the cocktail hour
Introduction of the bridal party
First dance
Bridal party dances
Blessing
Toasts
Cake cutting
Parent dances
Anniversary dance
Guests dancing
Bouquet
Garter
Last dance
Hiring a videographer
Professional wedding videography can ensure that every movement on your wedding day gets preserved in a beautiful, well-crafted video. But if you're looking to hire a pro, there are a few things to consider.
SHOP AROUND
There are a lot of videographers, and when it comes to selecting one for your wedding, it pays to do research before you decide on one.
Get recommendations: Talk to friends and family and read online reviews to find good potential videographers.
Ask the pros: Find out who your photographer or wedding coordinator would recommend. If you have a videographer in mind, ask if they've worked with them in the past, and what they thought about their work.
Meet them in person: When you're picking someone who's going to play such an important role on your wedding day, it's important that you trust them. An in-person meet can help you get a feel for their personality and trustworthiness.
Consider their style: Ask for a portfolio or for a sample wedding video so you can see the sort of product you can expect from them. You should also check their website and YouTube channel to see if their work matches your personal style.