Home Inspection
Get you future home inspected by a home inspector with years of experience, and at an affordable price. Plus a written report filled with critical details and photos of your home delivered within 24 hours. hold to the highest inspection standards.
provide professional building Inspections that give you objective information regarding the condition of the systems and components of the structure.
this is the highest designation in the home inspection industry.. I have many years of experience in the General Contracting and Home Inspection industry
provide professional Home Inspections that give you objective information regarding the condition of the systems and components of a home.
A Tempest Inspections – home inspection includes:
• Exterior Inspection
• Roof Inspection
• Interior Inspection
• Electrical Inspection
• Plumbing Inspection
• Thermal Imaging Scan
• Heating System Inspection
• Cooling System Inspection
• Attic inspection
HOME INSPECTION
Same day reporting.
Get a full color report with many photos within 24 hours
Thermal Imaging Included With Every Inspection
Thermal imaging uses infrared technology to detect very small differences in temperature.
Choosing the right home inspector can be difficult. Unlike most professionals, you probably will not get to meet me until after you hire me. Furthermore, different inspectors have varying qualifications, equipment, experience, reporting methods, and yes, different pricing. One thing for sure is that a home inspection requires work, a lot of work. Ultimately a thorough inspection depends heavily on the individual inspectors own effort
House Inspection includes:
Printed or digital PDF report versions (including thermographic and digital images) from the inspection with a complete summary of deficiencies
Professional, Friendly Home Inspection Expert
Maintenance Tips and Lifecycles
Prompt Service
I needed a home inspection ASAP and am glad I called. He completed the inspection the next day and had a thorough and professional report emailed to me on the day of inspection. He answered all of my questions and even pointed out maintenance things for the home that will eventually be a problem.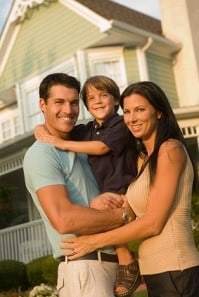 Home Inspections
Home Inspection Report – What's in it?
Your detailed report is divided into 10 key sections including Building Structure, Exterior, Plumbing, Electrical, Heating, Air Condition, Insulation, Ventilation, Roof, and Built-in-kitchen appliances. Your report will include easy to understand checklists, narratives, and color photographs to guide your decision making
Home Inspection's professional and certified inspectors have the knowledge, experience, resources, and background to give your property a thorough inspection. You have enough stress going on between work, family, packing boxes, and gathering required mortgage documents. Let us give you some peace of mind with a detailed analysis of your future home.
Home Inspections for New Home Buyers
You should know what you are buying! A new home is probably one of the largest purchases you will make. You have already spent a lot of time finding a great location, deciding on must-have features, selecting a realtor, local schools, house hunting, and mortgage pre-approval. It's a tiring experience, hut? Now that you have a property in mind, the next step is just as important. Choosing a qualified, reliable inspection company is just as important as picking out a great Real Estate Agent. Your Home Inspector's job is to provide information to guide your final decision-making process. You must be aware of potential safety issues or costly repair issues before you close the deal!
Home Inspections
The cost of a area home inspection is very small relative to the home being inspected. I am determined to perform home inspections of the upmost quality, with integrity. For a buyer, I make sure that they know and understand every fact about the property that they are purchasing. For sellers, I will provide a report that gives full disclosure, with no worries if a buyer coming back and questioning anything regarding the property.
Anytime that you are purchasing a property, I understand that it is a HUGE investment. Everyone involved needs to know every aspect of the property. I take pride in providing this service. The majority of my business is from client referrals and from online searches. I work directly for the client. My job is to insure that the client understands every item that may be reported. My job does not end after the report is completed. Should you have any questions days or months down the road, you are encouraged to give me a call and I will do whatever it takes to insure that you are completely comfortable with the property.
I am here to assist you in making a confident decision about your property. Whether you're buying a new property and want to be sure of what you're getting… or selling a property and want to eliminate possible problems that could delay or lose a sale. Or just want a professional to inspect and advise you on the condition and maintenance or safety recommendations of your current home, I am here to help.
What Does the Inspector Look At During a Home Inspection?
Roof, vents, flashings, and trim,
Gutters and downspouts,
Skylight, chimney and other roof penetrations,
Decks, stoops, porches, walkways, and railings,
Eaves, soffit and fascia,
Grading and drainage,
Basement, foundation and crawlspace,
Water penetration and foundation movement,
Heating systems,
Cooling systems,
Main water shut off valves,
Water heating system,
Interior plumbing fixtures and faucets
Electrical service line and meter box,
Main disconnect and service amperage,
Electrical panels, breakers and fuses,
Grounding and bonding,
GFCIs and AFCIs,
Fireplace damper door and hearth,
Insulation and ventilation,
Garage doors, safety sensors, and openers
And much more…
One of the things on which I pride myself is giving my clients a thorough inspection so that they are well-informed. From there, I will do what it takes to address all of their concerns and questions so they are comfortable with their purchase or non-purchase.
HOME INSPECTIONS
Someone who can answer all your problems about your roof or foundation? Is your new home a potential pitfall? I'm not qualified to answer all the questions about foundations. I am qualified to recommend someone that is qualified.
The time during the sale is oftentimes a very hectic and busy period with all the paper signing, phone calls, and appointments you will be doing. understand your time is valuable and you could use someone to provide a complete inspection
residential properties, his continuing education, and a hands-on approach to inspecting, home inspection pricing is very competitive, affordable and the home inspection you receive will be very thorough and thoughtful. Information is power and it's a call away. It's always to your advantage to inspect a property as early as possible.
BUYERS INSPECTION In a buyer's inspection we do a visual from the bottom to the top. The goal of a buyer inspection is to identify any material defects in the systems, structures and components of the home. In this inspection we will look at: • Insulation
do relocation inspections often for government employees, private investors, or corporate entities. This type of home inspection is performed like any other inspection, but it is much more in-depth because the purchaser is buying the home sight unseen.